So following my previous post on beauty, I am continuing on this streak, I am going to list below all my favourite people/channel I am following on youtube, and give a little explanation on each and what I love about each one sort of thing…
I am arranging it in categories and there is a mix of English, American, and Brazilian youtubers, and a few magazines that I also like to follow.
Beauty bloggers:
Vivianna does make up; (British) I like her voice and her personality. She is very honest but in sweet way and does good product reviews. I really got into her when she did the Beauty chat with Lily Pebbles, you could see their genuine friendship and they both always made me laugh!
Lily Pebbles; (British) I just mentioned her, I like her as well for her none fused approach to product reviews and tutorials. I sometime watch her vlogs and her real way to be in front of the camera. But I prefer her reviews on products very honest and I feel you can trust her judgment.
Jessica Make, (Brazilian) She is a lip addict (hum me too…) and is really good for any new product review from the Farmácia aisle. She will test directly on camera and share her first impressions. She is a lip swatcher queen and her channel is a good place to decide on which lipstick to get.
Niina Secrets; (Brazilian) She is very sweet and girly, sometimes a bit too much, I think she is still a bit young still. But I will be interested to see what's next… I do enjoy watching her channel for tutorials, fun tags, and her favourites videos.
Tanya Burr; (British) Almost a classic in the youtube world, she started ages ago and does wonderful tutorials, but in a easy way for you to recreate on your self. I love her bubbly personality that does comes out more in her collaborations, and I am always interested what she does next. Recently she participated at the United Nation on a global campaign, her attitude is really interesting and inspiring.
Brittany Sarah; (Canadian) I love her fun bubbly personality and I love her tutorials. Some I wouldn't recreate my self but on her it's beautiful! I love watching her reviews, favourites videos along with the hauls she does. She is really sweet and I do love her looks she creates on her channel.
Writer bloggers:
Dia de beauté por Vic Ceridono; (Brazilian) My number one favourite girl on youtube by far! I LOVE HER!!! She is hilarious! Her videos are always fun. You feel inspired after watching her. She experiments has fun with make up and that transmits it to us. Well for me it certainly does. I definitely have a girl crush on her… She did a beauty guide book called Dia de Beauté, that I am coveting to buy for a while… I am also totally obsessed with her Youtube Series with Camila Coutinho de Garotas Estúpidas called "#CamieVictake". There are many series, the last one was in New York, but before was Paris, London, or even Dubai! It's so much fun to watch!
Ruth Crilly a model recommends; (British) She used to be a model and now writes about beauty. I love her recommendations of products, the way she is so herself in the videos, that her baby pops up occasionally… she share her life and herself in such a natural manner that makes me really like her even more. Her tutorials are nice too if you're into glowing skin.
Sali Hughes Beauty; (British) She started as a make artist assistant and went into journalism later on. She write about many things and also writes on beauty for the Guardian. Her videos are full of knowledge and is journey to discovery. She has this serie called "in the bathroom of" and all the guests are interesting and wonderful! You learn about so much more than just make up and beauty.
Make up artists:
Pixiwoo, Sam and Nick; (British) The original and unavoidable sisters, both started as makeup artists and created what is youtube today. Their tutorials are amazing as always and so easy to recreate. They also created the staple that are their makeup brushes Real Technique. So good and affordable. You can't go wrong with them, love them both although I have a penchant for Nick…
Harry makes it up; (British) Another makeup artist, I really enjoy her tutorials, very beautiful and natural. I do sometimes enjoy watching her favourites and recommendations of products.
Linda Kramer; (Brazilian) She is makeup artist from Brasilia. She is great for product reviews, new launches, and her tutorials are good too. She is very genuine and sweet at the same time.
Wayne Goss; (British) I love him for his totally honest point of view and do really respect his opinion. He is a makeup artist and knows his stuff. I do really enjoy watching his reviews of new launches and products. His videos are always to the point and short which is nice sometimes.
Lisa Eldridge; (British) Well if you read my last post you will already know my love for her. I love all the technique and tips she shares on her channel. Her pin point concealing has literally changed my life!
Magazines: Some of the magazines I do tend to look out for on youtube, British Vogue, I like the serie called "inside the wardrobe of" and the Alexa Chung's serie called "the future of fashion".
Us Vogue, the classic well known 73 questions with many celebrities, the best being Derek from Zoolander, and the funny videos they create with the cover star. My favourite is as always the with Lena Dunham. I love it so much I added it here again…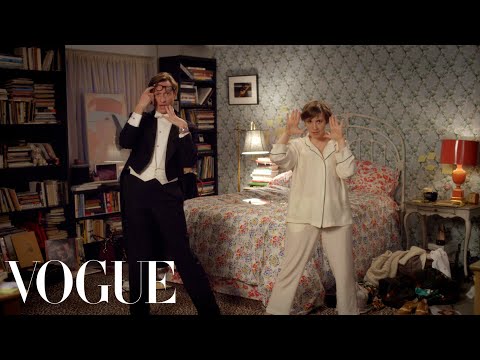 Vogue Brasil has always some fun and interesting videos, I like to watch o Mister V com Mattheus Mazzafera, Beauté por aí, a Moda da Casa…