Yesterday I saw this documentary and I urge you to watch it, it's very hard to even watch it fully as you realise we are all part of it on some way. It's heart breaking but at the same time we are part of the problem, we can also flip the coin and take the decision to make conscious choice of our power as a consumer.
This documentary opened my eyes, and I hope it will do the same for you. I am not as bad as some people or friends I know, I don't really shop that often you know at Topshop, H&M, Zara all those places but I occasionally do. I don't really like this fast fashion because it's impersonal, everybody dresses the same.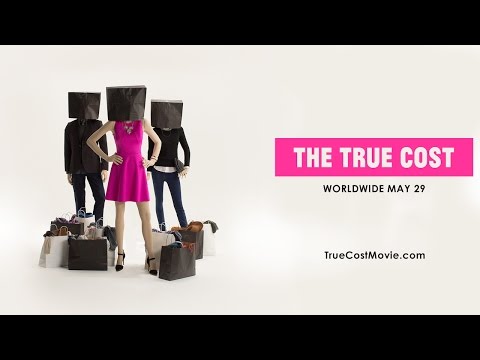 While I lived in London, I discovered vintage shopping. I inherently already knew about vintage as my wardrobe was already full of my mother's dresses or pieces she pass down to me. I always have loved fashion, but more than fashion itself I love clothes, beautiful clothes. This love was cultivated with mother she taught me this. She keeps items in her wardrobe for years and years, she mends them she care for each piece of clothing she owns. I try to do that too.
After watching this film I felt sick, and went to my wardrobe and started to look at the labels of clothing that I have. Obviously Bangladesh came up, Turkey, China, all the usual places you would suspect from t-shirts I bought from H&M, Topshop, Zara, Gap, Forever 21… I felt awful, I still feel awful and guilty. Like Ali Hewson's says, "We carry the story of the people who make our clothes around with us."
A few years back Vintage shopping was a revelation for me. Vintage pieces exude a beautiful quality, they tell a story, a happy story, (unlike the fast fashion pieces…) they connect you to a time, to a person, to a place where they were made. They make you feel special. Each vintage piece I buy it is because I absolutely love them, they are unique (on top of it!) and they become like my treasures that I can enjoy and look after for the rest of my life. I want and will pass them down like my mother did to my children. I cherish those pieces. And on top of this all they fit me wonderfully! (most of them did fit me like a glove but sometime I had them fitted my local dry cleaner). I remember when I was at school H&M had just opened, buying clothes there most of the time left me a bit disappointed as most items never really fitted me or never gave the feeling that vintages pieces always do. Most of those purchases I did discard, although I have a few pieces that I still have today and have kept for many years. Anyway I don't want to be part of this and I want to change my habits from now on and buy better.
Quoting from the best ladies on this point Livia Firth says: "Buy less and get more 'fashion mileage' out of each piece. Buy heritage pieces that will last. Become an active citizen through your wardrobe. Lucy said "if we can all commit to wearing something a minimum of 30 times, then we can buy it. We need to buy clothes that we love. Clothes that will sustain our wardrobe for years to come. This is why I love fashion. It can truly empower you!"
Livia quotes the amazing journalist called Lucy Siegle, she wrote two books on this very complex subject, To Die For: Is Fashion Wearing out the World, and We are what we wear. They are on my reading list definitely.
If like me you want to take more an active approach as a consumer, have a look at the documentary's website, www.truecostmovie.com they have lots of info on how to be more an informed consumer and brand they recommends too.